| To Love/AROHA | To Learn/ĀKO | To Lead/ĀRAHI | To Be Loyal/PIRIPONO | For Life/ORA |
| --- | --- | --- | --- | --- |
St Joseph's Catholic School
"Excellent Education befitting our Catholic Character"
94 Seddon St Pukekohe 2120
Term 4 Week 8 9 December 2021 Newsletter#18
Tena Koutou Katoa Talofa Lava Kamusta Malo el lelei Mauri Hello Everyone
We finally made it and this will be our last newsletter of 2021. What a year this has been! We are hoping that 2022 will be more settled and everyone can be back at school. This week we have 50% of our children back and everyone seems to be happy to be here. I think they have settled well and will find the return to school next year easier.
This Sunday will be the beginning of the third week of Advent, known as Gaudete Sunday. The third candle on the advent wreath is a rose colour representing joy. It reminds us to rejoice as our Christmas celebration of the birth of baby Jesus comes closer. I think we can rejoice and be grateful that we are safe and comfortable in a time that is so turbulent world-wide, and that we have our summer break to look forward to to recharge and refresh. I know that I feel that is what I need this year.
Our Year 8 students will be having a special day at school tomorrow; including a retreat and luncheon. We have not been able to follow our usual practices at the end of this year but we have been able to redesign them in line with current Covid restrictions. It is always wonderful to celebrate the growth of our students over their time here at St Joseph's and we hope that our Year 8 graduates enjoy their final days and the activities we are able to provide.
Tomorrow, we start reshuffling our spaces in preparation for our 2022 classes. Because of the number of children, year groups/classes often move for the beginning of a new year. We have enjoyed our new collaborative classroom block and the additional playground space.
We have a very short week next week, school finishing at 1pm on Wednesday 15th December, but a very full one. Our school prizegiving will be shared with you all online on Monday, our end-of-year assembly will be on Tuesday, and our final liturgy on Wednesday. All of these events have taken additional planning and organisation and would like to acknowledge that this has added to people's workload at this busy time. You will read how to access these events further in our newsletter.
This year no trophies will be sent home, however, children will receive a miniature to keep. There will be a photo opportunity for children with their trophy once they are back at school. Although not all children receive an award, I wish to acknowledge all of our children for the contribution they have made to the life of our school. We are proud of you all.
Our 2022 school year will start on Tuesday 1st February. On that day, we will be having a Powhiri at 9:00am in our school hall to welcome our new students and their whānau into our St Joseph's School family. New whānau should wait inside our gate to be welcomed on. We look forward to seeing you.
Wishing you and your families many blessings for this Christmas and summer holiday season.Stay safe and God bless.
Ursula Hall
Principal – Tumuaki
Feast of the Immaculate Conception
8 December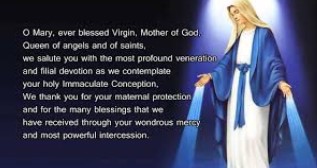 KEY DATES TERM 4



Please note these dates are subject to change For further dates see calendars on the Skool Loop app or at: www.stjosephs.co.nz
Special Catholic Character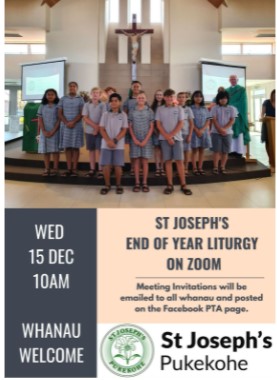 Zoom Meeting Link:
https://zoom.us/j/92046074075?pwd=L0pRaVVYZFhNVU1ITDNsamd1MEdnZz09
Meeting ID: 920 4607 4075 Passcode: nL6kFD
St Vincent De Paul CANS4CHRISTMAS Appeal: The Cans4Christmas appeal is currently on $8440. Their target is $10,000. This would help St Vincent de Paul out hugely in a time where they are helping all our communities.This collection will close on Wednesday 15th December 2021Here is the Give – A – Little page link to make a donation: https://givealittle.co.nz/cause/2021-collection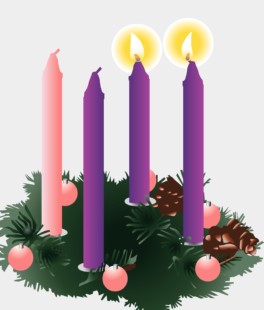 On behalf of the Board of Trustees, I'd like to take this chance to wish you all a very Merry Christmas. It has only been a short term at school and I know that the staff have been delighted to be able to welcome back our students even only for a short while.
At our recent meeting, Mrs Carolyn Cornu advised that she will be stepping down from her role on the Board to take up the principalship of Pukekohe Christian School. Carolyn was co-opted onto our Board at the beginning of 2021 and brought many gifts to our table, including great inside knowledge of different parts of the education system. We congratulate her on this exciting new opportunity.
We have also made the decision to postpone our school fair that we had planned on holding in 2022. Due to the current uncertainty and the large amount of time required to prepare for a fair like ours it has been decided that we will look to do this in 2023 when hopefully we are in a more stable environment.
Next year will see the next round of elections for Boards of Trustees around the country. We are always keen to welcome new ideas and skills, so please start thinking about whether this is something you or someone you know might be willing and able to offer in the future.
May you all have a safe and joyful Christmas with your loved ones and friends.
We look forward to seeing you all in the New year.
Simon Dykes
Presiding Member
ALL SCHOOL-OWNED CHROMEBOOKS PLUS CHARGERS AND CASES MUST BE RETURNED TO SCHOOL TOMORROW, FRIDAY!
Prizegiving: On Monday the 13th of December at 11:30am our annual school prizegiving will be shared via a pre-recorded link with you all. This link will be available to you on our school Facebook Page and through School Loop. It will also be played across the school at the same time for all our students. Children in attendance who have received an award will have a photo taken with their trophy and will be able to go home with their miniature and certificate. Large trophies will not be sent home this year.
Collection of Trophies: If your child is not attending school but receives an award you are welcome to bring them to school between 1pm and 2:30pm on Tuesday the 14th for a photo opportunity with their trophy and to receive their miniature and certificate. Please come to the front of the school.
Reports: End of year reports and class placement lists will be sent home with children on Monday the 13th. Parents wanting to collect their child's end of year report can also come to school between 1-2:30pm on Tuesday the 14th to collect these. Please come to the front of the school and we will have tables set up by Team for you to pick up their reports, and school magazine (if ordered).
Year 8 Assembly: A special leavers assembly created by our Year 8's will be presented on Tuesday the 14th at 11:30am in the same format as our school prizegiving and will also be shared via a link posted on our Facebook Page andSkool Loop.
End of Year Liturgy: This liturgy will be held on Wednesday the 15th at 10am. Please note this will be available via a Zoom link shared on our Facebook page and Skool Loop for anyone to attend. This is special liturgy to end the school year and acknowledges our Year 8 students as well.
Life in Te Roopu Ārahi
It is hard to believe that we are in our final days at school for 2021. It has definitely been a year to remember. Over the past three weeks it has been absolutely fantastic to reconnect with each other and to carry on with our learning. We are incredibly proud of our students who have been working hard on planning, writing and publishing story books for students in Aroha. The quality of the work is outstanding. These books have been written with love and we hope that the younger students will cherish them.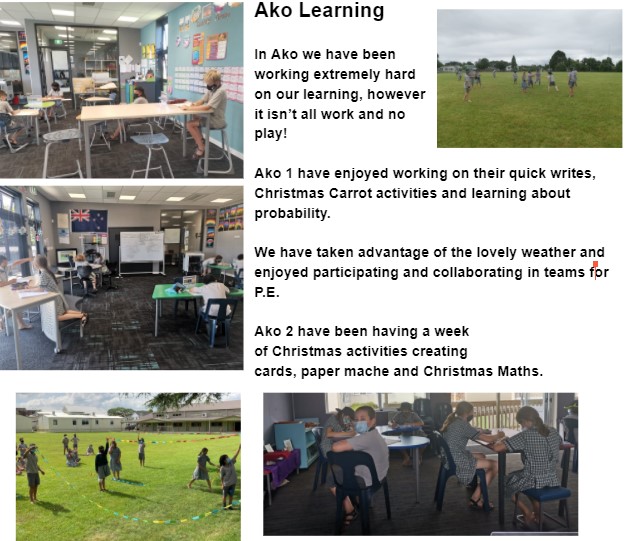 Lockdown Kumara Science Project 2021
Congratulations to the students in Aroha 1 who participated in the Lockdown Kumara Science Project Competition. We are so proud of all of the effort that you put in over the lockdown to grow your kumara!
The judges had a very difficult decision to make! Thank-you to Mr Jones & Mrs Irwin for judging the Kumara Plant section and to Mrs Mravicich for judging the Kumara Diaries.
The overall scores from both sections were calculated to get the final overall results.
Congratulations to all our winners!
1st Place = Daniel Waru and Lily Maria
2nd Place: Isla Shields
3rd Place: Liam Millar
Best Kumara Diary: Isla Shields
A huge shout out and thank-you to Farrell's Nurseries for donating the trees for our prizes and a special mention to George Farrell who grew the tomato plants which he kindly donated to the participants.
Congratulations everyone!
Financial support for struggling families
It's been a tough year for many: we know that as a result of alert level restrictions, many families have had either no work or reduced work and have therefore had a significant drop in income.
If you know any families needing help with putting food or kai on the table or paying an overdue bill, support may be available from the Ministry of Social Development.
Understanding this is an expensive time of year for families, income limits for hardship assistance have been increased from 1 November 2021 until 28 February 2022.
If you know of any families finding things tough financially, Work and Income have an online check what you might get guide, which will have the new limits updated from today Monday 1 November.
You'll need to answer some simple questions about your situation, then Work and Income will let you know if there are any payments you can get. It only takes about five minutes to check what you might get, and you don't need to be getting a benefit to be eligible.
Your answers are completely confidential, and they won't be saved or used in any way.
Alternatively, call 0800 559 009.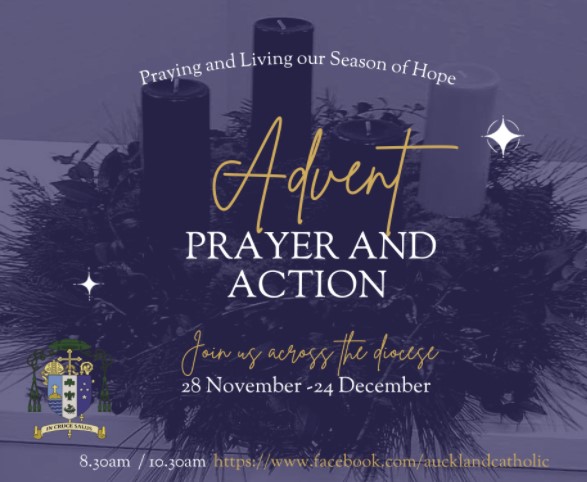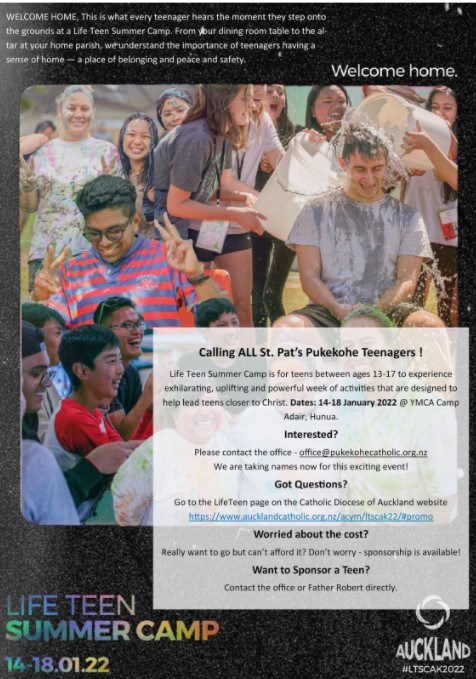 Please support our newsletter sponsors below
Copyright © St Joseph's Catholic School 2021
Click
here
to unsubscribe.