28 January 2021
Dear Parent/Caregivers,
We hope you have had a wonderful summer break and that you and your children are looking forward to their return to school next Tuesday the 2nd of February. 
The school day will start at 8:45am so children should be arriving after 8:30am. They should be in their full summer uniform, which includes their school hat.  
As you will see, the new building is nearing completion and only needs a final council sign off; which will hopefully take place next week. This means the students who were to start in the new building next week will need to report to the following areas for the first week of school.
Students with the following kaitiaki teachers, Mrs Wallace (Yr 2&3), Miss Farrell (Yr 2&3) and Mrs Hawke (Yr 2&3), should go to Rooms 1&2 (above the library).
Students with the following kaitiaki teachers, Mrs Sokimi (Yr 4&5), Mr Surrey (Yr 4&5) and Mrs Hartnett (Yr 4&5), should go to the school hall.
Please note that at 9am on the first day of school we will be holding a powhiri on the field in front of the hall deck to welcome new staff and students. New families to our school are asked to wait in the car park area (near the hall) to be welcomed. Our current school families are to join the assembled school.
If you have any queries, please contact the main office.
Looking forward to seeing all our tamariki back at school.
God Bless.
Ursula Hall
Principal
23 March 2020
Dear Parents and Caregivers
When I began this letter this morning, little did I know how the situation would escalate? You would have heard by now that New Zealand is now in Level 3 and will go into Level 4 at midnight on Wednesday. This means our school will be closed for students tomorrow, Tuesday 24th. Please keep your children at home. Learning packs/information were sent home on Friday. If your child was away, you can contact your child's teacher through their email address: first name and initial of surname @stjosephs.co.nz.  For example johns@stjosephs.co.nz
We understand that the school holidays will be brought forward and will let you know our return date when that is decided, however, we do know we will be closed for at least four weeks. Even though we provided distance learning packs/information, we do not expect or want you to be creating hourly schedules for your children.  We know you will support us in continuing your child's learning, which can include online activities, paper-based tasks, and other activities.  You may plan to limit technology until all home learning is done!. But please remember… we are all very concerned right now, and we will be dealing with overly anxious children.  They hear everything that is going on around them, their daily routine and structure is going to be very different and they feel the tension and anxiety around them.  They, like us, have never experienced anything like this before. Just now, the idea of being off school for weeks sounds amazing. They are probably picturing fun times like during the summer holidays, not the possible reality of having to stay at home and not seeing their friends. You may, over the coming weeks, see an increase in behaviour issues with your children.  Whether it's anxiety or anger or protests because they can't do things normally. It may be meltdowns, tantrums or oppositional behaviour.  This will happen but it is normal and expected in these circumstances. Arguing with your children over home learning is not what anyone needs right now.  What they need is to feel comforted and loved and to feel like it is all going to be ok.  So cuddle up together and read, take turns reading and talk about the story. Bake cakes or cook together – kitchen science.  Paint pictures or make creation from playdough or do some junk modelling. Play board games and watch movies. Do a science experiment together or find virtual tours of museums or watch animal cameras from the zoo.  Do a puzzle. Build a den in the living room and camp out.  Get out the lego and let your imagination run wild! Look at old photographs and share memories.  Sometimes just snuggle up together under a blanket and do nothing.
Please don't worry about them regressing at school.  Every child is in the same position and they will all be okay.  When we are back, we will work with the children wherever they are.  This is our job, we know what we are doing. So use the home learning packs, create your own activities, just do what you can.  Don't argue or stress over learning activities, try to have fun and spend time together as your child's mental health is more important than their academic skills.  How they felt during this time will stay with them long after the memory of what they did during those weeks is long gone. Your child can communicate with their teacher through their SeeSaw account or Google Classroom to share their learning or tell their stories. Please remember to check your emails, Skool Loop or our school website for updates around the school's closure.
In the meantime, remember your prayers in this troubling time, and this special time of Lent/Easter. Take care of yourselves as well as your children. Stay well and God bless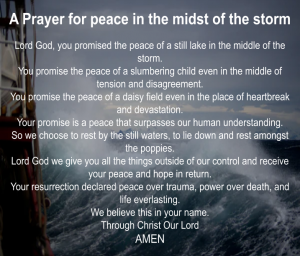 You will be aware the Ministry of Health's Director-General has confirmed a case of COVID-19 in a Dunedin school following a student testing positive for coronavirus. On advice from the Southern District Health Board the school will now remain closed until Tuesday (Monday being Otago Anniversary Day). Close contacts have been identified and are being tested for the virus. The letter to the community from SDHB provides further information The Ministries of Education and Health are working closely with Public Health services in Dunedin and the school leadership to help minimise disruption, progress contact tracing and reduce the possibility of spread. Reminder – schools remain open At this stage, we are not expecting widespread school closures. We are planning for temporary closures, like what is happening at Logan Park School but as the World Health Organisation has confirmed, the risk to children remains low and parents should continue to send their kids to schools and early learning centres. Consequently any decisions about school closures will be made on a case by case basis. In the meantime, unless students are unwell themselves, then parents should keep sending them to schools and early learning centres as these environments continue to be safe and the best place for them to continue their learning. Talking to children and young people about COVID-19 Given the rise in the number of reported cases, there may be children or young people in your life who experience distress. As a trusted adult, you can help reassure and educate them about COVID-19 – it can be good to talk to them now, so they can understand the illness and be reassured. A useful resource for parents, caregivers, whānau and teachers talking about the virus with children and young people can be found here This can also be downloaded as an information sheet. Up-to-date information and advice A reminder that information and advice for students, whānau and the education sector is available here While the website is being regularly updated with education-related content, the Ministry of Health is the Government agency leading the response to COVID-19 The Secretary for Education joined the Director-General of Health for the Ministry of Health's COVID 19 update today. You can view that, and all Ministry of Health updates here.
Coronavirus Outbreak 2020
Novel coronavirus 2020
In January 2020, novel coronavirus (COVID-19) was identified in Hubei province, China. It causes respiratory illness with flu-like symptoms including fever, coughing, and difficulty breathing. Although the virus has spread to a number of countries, the risk of an outbreak in New Zealand is low-moderate.
The Ministry of Health is closely monitoring the situation and following guidance from the World Health Organization. If any public health measures are needed for the virus, the Ministry will advise.
Our school is following the advice of the Ministry of Education including checking their website for the latest information and implementing heightened hygiene practices.
For more information click on any of the links below :
These sites are reviewed and updated regularly.