| To Love/AROHA | To Learn/ĀKO | To Lead/ĀRAHI | To Be Loyal/PIRIPONO | For Life/ORA |
| --- | --- | --- | --- | --- |
St Joseph's Catholic School
"Excellent Education befitting our Catholic Character"
94 Seddon St Pukekohe 2120
Term1 Week 1 03 February 2022 Newsletter#01
Tena Koutou Katoa Talofa Lava Kamusta Malo el lelei Mauri Hello Everyone
Tēnā koutou katoa me ngā mihi i runga i ngā tūāhuatanga o te wā, kua hipa te tau.
Greetings to you all as we start a new school year. It is lovely to see our children back at school. So far, so good.
On Tuesday we began our year with a powhiri welcoming our new families as best we could within Covid Red restrictions. Although all aspects of the powhiri could not happen, and our wider school family could not attend, it was a lovely occasion to begin our school year. Special thanks to Mrs Robin Burns and Ms Paridice Tarapa who coordinated this.
The school year has started smoothly and we are trying to keep our teaching and learning programme as close to normal as possible. We are having more breaks during the day so that children get outside regularly as well as additional outdoor education opportunities. This year we are back in four teams (Aroha: Y0-2, Ako 1: Y3-4, Ako 2: Y5-6, Ārahi: Y7-8) and you will get a letter from your roopu next week letting you know things that are happening for them. Today we have 80% of our children back at school and we encourage everyone to return soon.
Some of our children are arriving very early. Just a reminder, they can enter the school grounds from 8:00 am and wait outside the admin building. At 8:30 am all teachers will be in their rooms and students can then go to their classrooms. Aim to drop your children off at school at 8:30 am. Our school day begins at 8:45 am and it is important that the children are already there to begin their day with their roopu in prayer; an essential part of our life as a Catholic school. The school day finishes at 2:45 pm and it is important that children are collected before 3:00 pm. For our youngest, Aroha, we are saying they can be dropped off 5 minutes later and picked up 5 minutes early just to relieve congestion at the gate. Also parents are welcome to wait for their children outside the admin building but we ask that you do not go down the steps. We are trying to keep everyone safe.
We are very aware that our entrance, on a busy road, needs to be altered and there are plans to do this for our centennial year 2023. In the meantime, you might decide to drop your children off at our Dublin St entrance or get them to walk to a point away from the school for collection. Of course, if you were ever late I would prefer they were in the school grounds after school. The Dublin St and Seddon St pedestrian gates are locked at 3:00 pm but children can still wait inside our grounds outside the admin block where they will be safe. The driveway gates will remain open.
There will be a mufti day next Thursday to support the Caritas Pacific Relief Fund: Tonga Appeal. Several of our school families are Tongan and we wish to show our support for them at this time. Bishop Michael has also organised an online fundraiser event 7.00 pm – 9.00 pm on Saturday 12 February. We are hoping, as a school, to also be part of this. Bishop Michael asks us to pray for the people of Tonga who have been affected, all those who are responding and, of course, our Tongan fanau here in Tāmaki Makarau Auckland who are worried about family back home.
Next week on Friday 11 February, Father Robert is coming to celebrate our School Dedication Mass in our school grounds. Once again, for this to go ahead during Covid Red Level we cannot invite parents to attend. As soon as other adults come into the school, it is deemed a gathering. While at school we do not have number limits for students and educators, just distancing.
Friday also is the feast day of Our Lady of Lourdes. We have her statue as a focus in our prayer area; a visible sign to our children that we are a Catholic school.
We hope your children have had a good start this week. They look happy and it is great to see them back at school.
Stay safe and God bless.
Ngā mihi nui

Ursula Hall
Principal – Tumuaki
Our Lady of Lourdes
Oh ever immaculate Virgin, Mother of Mercy, Health of the Sick, Refuge of Sinners,

Comfortess of the Afflicted, you know my wants, my troubles, my sufferings. Look upon me with mercy. When you appeared in the grotto of Lourdes, you made it a privileged sanctuary where you dispense your favours, and where many sufferers have obtained the cure of their infirmities, both spiritual and corporal. I come, therefore, with unbounded confidence to implore your maternal intercession. My loving Mother, obtain my request. I will try to imitate your virtues so that I may one day share your company and bless you in eternity. Amen.
KEY DATES TERM 1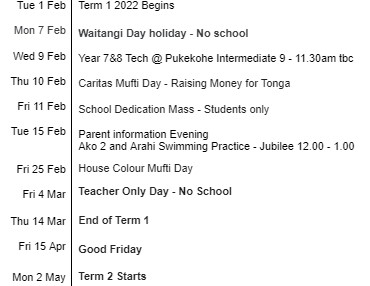 Please note these dates are subject to change For further dates see calendars on the Skool Loop app or at: www.stjosephs.co.nz
Special Catholic Character
Waitangi Day 2022: "The Catholic Church's present commitment to the Treaty of Waitangi is based on three things: Catholic social teaching, particularly in relation to the rights and dignity of indigenous peoples; the Church's pastoral work among Māori; and the historic involvement of Bishop Pompallier at the signing of the Treaty"
This year Waitangi Day falls on a Sunday. This offers a special opportunity for us all to celebrate the unique identity of the Church in Aotearoa because of the presence of Māori as tangata whenua.
Here are some ideas of things to do with your whānau to celebrate Waitangi Day:
Watch coverage of Waitangi Day. The 2022 programme will air on TV3 from 7-10am on February 6 with an interview and address to the nation by Governor-General Dame Cindy Kiro from 4.30-5pm. There will also be all day coverage, 7am-midnight February 6 on Māori TV.

Talk about your family history or whakapapa, look at photos and other taonga

Read this comic by Toby Morris with your family- it's free to download or listen to

https://instructionalseries.tki.org.nz/Instructional-Series/School-Journal-Story-Library/Te-Tiriti-o-Waitangi

Enjoy a hangi or prepare some other NZ food

Read a book by a NZ author, listen to some NZ music, watch a NZ movie

Get outdoors and keep NZ clean and beautiful – go to the beach for a swim, for abush walk or a swim in a river or lake- pick up some litter, clean up a beach, plant a native tree
Dedication Mass: On Friday 11th of February we will be holding our School Dedication Mass at 11am. This is an opportunity to welcome student's back to school and to name our school's student leaders for 2022. Due to Red Level restrictions the mass will be held on the school grounds and no parents will be able to attend; however, we will be live-streaming the mass and the roles and responsibility announcements on our school's Facebook page.
Sacrament Programme – 2022
Registrations are now being taken for baptised childrenin school Year 4 or older to prepare to receive the Sacraments of Reconciliation (Confession),Confirmation, and Eucharist (Holy Communion). While there is still uncertainty around this year's format and dates, it is important that registrations are stillcompleted so that appropriate planning can get underway. Please email the office to register or for more information accounts@pukekohecatholic.org.nz
Did you know we have a new bishop?

Please note: our newsletter will be published fortnightly from this week.


SchoolDocs: Policies and Procedures:
Parents can view our school policies and procedures online by visiting the schooldocs website. SchoolDocs updates, modifies, or creates policies in response to changes in legislation or Ministry guidelines, significant events, reviews/requests from schools, and regular reviewing from the SchoolDocs team. Our board of trustees has the opportunity to view changes/additions and comment on them before they are implemented. We will advise you when policies are up for review and how you can take part in the review.
Visit the website

https://stjosephspukekohe.schooldocs.co.nz/1893.htm
Enter the

username

(stjosephspukekohe) and

password

(mission).
Copyright: Except where stated, the content on this site is the copyright of SchoolDocs Ltd. It may not be reproduced without written permission from SchoolDocs Ltd.
Select the

Parents and Whanāu section

on your SchoolDocs site – it has a brief description of SchoolDocs, a navigation quiz, and important information about parent involvement, communication and reporting, community conduct expectations, and social media guidelines.
There is also a Quick Links for Parents topic with links to the most relevant policies and procedures.
If you don't have internet access, school office staff can provide you with printed copies of the policy and a review form.
Introducing our 2022 Staff :
PRINCIPAL Mrs Ursula Hall
DEPUTY PRINCIPAL Mrs Lori Mravicich
ASSISTANT PRINCIPAL Mrs Robin Burns
DIRECTOR OF RELIGIOUS STUDIES Mrs Mairead Gallagher
SENCO Mrs Tricia Kenny
LEAD TEACHER Years 7 & 8 Mrs Robin Burns
LEAD TEACHER Years 5 & 6 Mrs Kerri Egelmeer
LEAD TEACHER Years 3 & 4 Mrs Linda Sokimi
LEAD TEACHER Years 0 – 2 Mrs Lesley Wallace
CLASSROOM TEACHERS PART TIME TEACHERS
Te Rōpu Ārahi
Mrs Robin Burns/Mrs Mairead Gallagher Mrs Jillian Saia
Mrs Bridget Hartland Mrs Fleur de Farias
Mr Elroy Muller
Te Rōpu Ako 2
Mrs Kerri Egelmeer
Mrs Kelly McArthur
Mrs Tiana Farrell
Mrs Suit-Keen Waru
Te Rōpu Ako 1 READING RECOVERY
Mrs Linda Sokimi Mrs Karen McCulloch
Mr Alan Surrey
Miss Nicole Sarginson
Te Rōpu Aroha
Mrs Lesley Wallace
Mrs Joanna Wilcox
Miss Claudia Farrell
TEACHER AIDES
Mrs Deborah Chapman Mrs Joan Murphy
Mrs Jeannette Irwin Mrs Patricia Roberts
Mrs Nia Ali Mrs Caroline Harrington
Mrs Helen Farrell
ADMINISTRATION
Mrs Aimee Cunningham Mrs Nia Ali/Deborah Chapman
ACCOUNTS
Mrs Fiona Marlow
CARETAKER
Mr Peter Jones
CLEANER
Mrs Tariangi Ruben Red Coat Cleaners
Please remember that this coming Monday 7th February is a public holiday to observe Waitangi Day. School will not be open. Enjoy your long weekend!
Caritas Mufti Day: He maimai aroha mō Tonga – We remember Tonga at this incredibly difficult time when the pandemic has presented a challenge in all sorts of ways. Our thoughts are with the people of Tonga and our Tongan students and communities as you work together to recover from the damage caused.
To show our support we will be having a Gold Coin donation mufti day this Thursday the 10th of February. We ask children to wear any Red or White clothing they have and to bring along a gold coin to help raise funds for Caritas as they support Tonga through the challenges ahead.
Parent Information Evening: We will be holding a Parent Information Evening in Week 3 on Tuesday February 15th. This is an opportunity to meet your child's Kaitiaki/teacher and to hear about how the teaching and learning programme will be structured for your children this year. As we are still operating at Red Level we ask all parents to wear masks, use their Covid Tracer app and/or sign in to the Register located at the doors of the buildings. Times and locations are listed below:
Aroha (Yr 0-2) will be at 6pm and held in the school library
Ako1 (Yr 3&4) will be at 6:30pm and held in Ako1 learning space (downstairs of new building)
Ako2 (Yr 5&6) will be at 6:00pm and held in Ako2 learning space (upstairs of new building)
Arahi (Yr 7&8) will be at 6:30pm and held in Arahi learning space
House Colour Mufti Day: We will have a house colour mufti day on Friday, February 25th. Students are to come to school wearing their house colours. No gold coin is necessary; this day is for students to celebrate their houses (Chanel-blue, Barbier-green, Pompallier-red and Costello-yellow) and to learn cheers and chants for our House Competition Days. Accessories are welcome (hats, glasses, tutus etc though we ask no feather boas or pom poms please). New students and younger children will be informed/reminded of their houses in the coming week.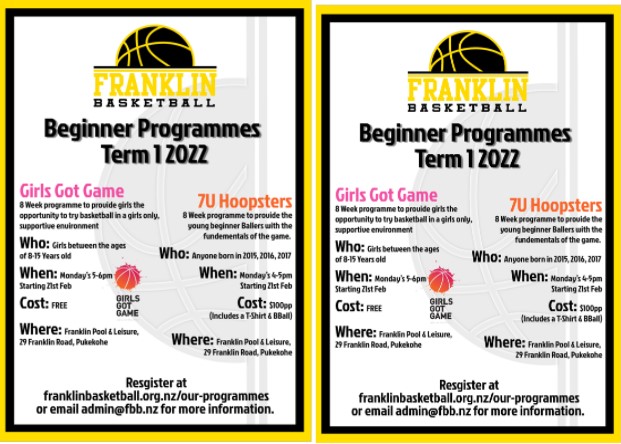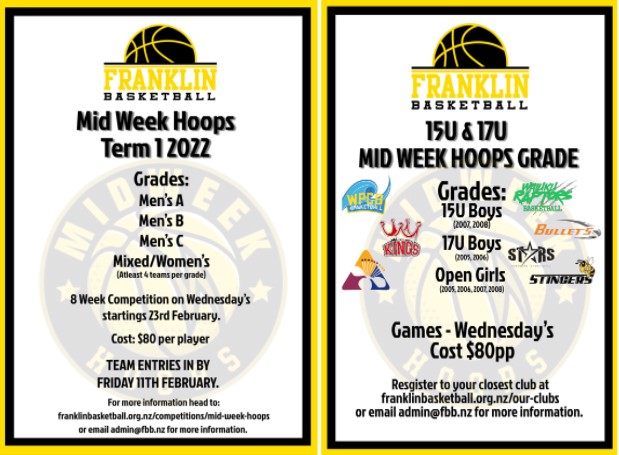 Please support our newsletter sponsors below
Copyright © St Joseph's Catholic School 2021
Click
here
to unsubscribe.