| To Love/AROHA | To Learn/ĀKO | To Lead/ĀRAHI | To Be Loyal/PIRIPONO | For Life/ORA |
| --- | --- | --- | --- | --- |
St Joseph's Catholic School
"Excellent Education befitting our Catholic Character"
94 Seddon St Pukekohe 2120
Term 3 Week 9 24 September 2021 Newsletter#15
Tena Koutou Katoa Talofa Lava Kamusta Malo el lelei Mauri Hello Everyone
Well we are finally back to Alert Level 3 and already the traffic is flowing more regularly. I was amused, as I drove to school yesterday, to see people taking selfies of themselves and their takeout coffees. It is great seeing local businesses opening again in this contactless/click & collect environment.
I want to thank you, parents and whānau, for continuing to support your children's learning from home. We are not out of the woods yet and this deadly Delta variant has been too close to home. We do have a bubble of children at school, whose parents are essential workers, and I want to thank our dedicated staff who have compromised their home bubbles to come into school to supervise them. You must keep your children at home if you can and please note that additional supervision has to be found if the bubble grows bigger which puts more people at risk..
The end of the school term is now only a week away, and this time we are all a bit weary and ready for a rest. Hopefully the Covid Levels will change down again and we can all get out of the house to catch up with family and friends and re-energise. One of the key messages from Dr Ashley Bloomfield continues to be about vaccinations – the more people we have vaccinated, the more freedom we will have in our community. Looking at some information last week it was interesting to note that although Aotearoa New Zealand has had the tightest lockdowns worldwide, they have been the shortest, and we have been able to gather for sports and concerts between them. This is a great country!
If you are feeling anxious about your children's behaviour during the extended alert levels, you might find this video clip helpful Lockdown Tips with Dr Hinemoa Elder and Nathan Wallis which you can find on youtube or on our St Joseph's School Pukekohe – PTA & Friends facebook page. If you have any real concerns about their children, it's important that you talk with a health professional. For wellbeing helplines go to https://covid19.govt.nz/health-and-wellbeing/mental-wellbeing/where-to-go-for-help/
Finally, we are very pleased with our recent Catholic Special Character Review report and hope we can share this with you once approved. Thank you to those parents (and children) who had significant input to the review. They wrote "There is very good evidence of the depth of relationship students are developing with Jesus." We are proud to continue in the charism of Euphrasie Barbier and the Mission Sisters growing young Catholic disciples.
Keep well and God bless you and your families. Kia kaha!
Ursula Hall
Principal – Tumuaki
"Let the most gentle charity reign among you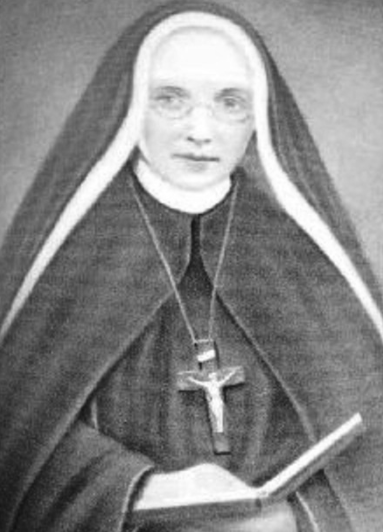 and take great care of the health of each other.
Do not feel obliged to work too much,
but give both body and soul plenty of rest"
– Euphrasie Barbier
1868
Term 3 Key Dates – All Events are subject to Covid Alert Levels
Fri 1 Oct END OF TERM 3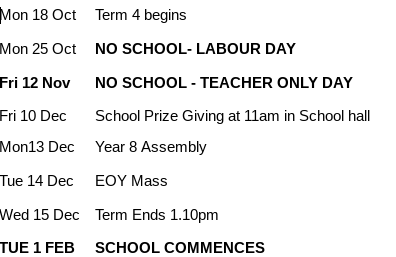 Please note these dates are subject to change For further dates see calendars on the Skool Loop app or at: www.stjosephs.co.nz
Special Catholic Character
Catholic Schools' Day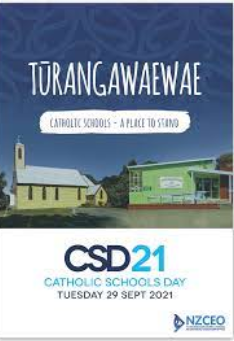 29 September
Our Year 7 / 8 Arahi students and Fr. Robert will lead a Liturgy of the Word next week on Wednesday morning at 10am, to celebrate Catholic Schools' Day. The theme is Tūrangawaewae – A Place to Stand.
There are 30 available spaces for whānau. If you would like to attend, please complete this Google Form and we will email you the Zoom invitation in due course.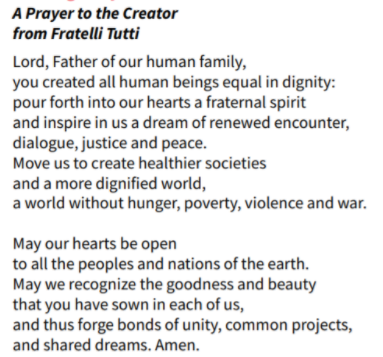 Fratelli Tutti means "all brothers and sisters" and was the basis of our Catholic Social Justice Week last week. You may have seen your tamariki doing RE learning or attending liturgies along this theme. Fratelli Tutti is Pope Francis' Encyclical Letter, written to us in October 2020 in response to Covid19. The Pope writes about the need for us to survive not only the coronavirus pandemic, but the many other things our contemporary world needs to do to survive. It is a primer on the Catholic Christian way of viewing life and living life in dialogue among all people of good will. Read Fratelli Tutti here.

The Church and Covid Level 4 – Catholic Diocese of Auckland
Daily Mass During this time of uncertain many people appreciate being able to follow and pray along with the familiar ritual of the Mass. We know this is not 'going' to Mass but it is a way of connecting with our faith community and joining in praying for the needs of the world. www.aucklandcatholic.org.nz
NZ Catholic has provided, free of charge, a digital link to their latest issue. https://indd.adobe.com/view/0c7dd53b-b640-42c7-9b20-ac28de9d0386 Some headlines for the latest issue are – More discussion called for over hate speech law proposal. Catholic reaction to Auckland terrorist attack. Search for 19th century 'True Vine' poster. Youth hyped up for Life Teen summer camp. This issue has been produced by NZ Catholic's staff, from their homes.
Helpful information from the Ministry of Education
Learning from Home resources
The Learning from Home website has print-friendly, online resources that can be used at home: online.https://learningfromhome.govt.nz/distance-learning/advice-for-parents-and-whanau
Information hub for Pasifika parents and families
Kia orana, Noa'ia, Talofa lava, Mauri, Mālō e lelei, Tālofa, Ni Sa Bula Vinaka, Fakaalofa lahi atua and Mālō ni, we've created an online info hub for Pasifika parents, families and communities to support learning during Alert Level 4. You can find the information hub here.
There are helpful updates on how COVID-19 impacts education and links to learning resources including:
We'd encourage you to check the info hub page regularly – we'll be updating it daily.
More places to get help
Helplines that are available 24 hours a day, seven days a week:
Mental Health Crisis: 0800 800 717

Lifeline for counselling and support: 0800 543 354 or 0800 LIFELINE

Samaritans for confidential support for anyone who is lonely or in emotional distress: 0800 726 666

Depression Helpline to talk to a trained counsellor about how you are feeling or to ask any questions: 0800 111 757 or free text 4206

Healthline for advice from trained registered nurses: 0800 611 116

Suicide Prevention Helpline: 0508 828 865

Counselling Free Call or Text 1737.
Also available:
Family Services 211 Helpline for help finding and direct transfer to community-based health and social support services in your area: 0800 211 211
Home Internet Access : Access to the internet can be a barrier for many of our learners. Skinny has released a broadband plan that costs $5 for 30GB of data, with a maximum of 5 plan renewals per month. Families also get the modem at no cost. Find more information here. Please let us know if you need help to do this?
2021 Magazine/Yearbook: Remember to order your school Magazine/Yearbook! These are a lovely record of our school year and will be distributed at the end of term four to those who have pre-ordered.
Thanks to those who have already paid. If you would like to order please pay $25 on line with student's name and ref MAG.

2

022 Enrolments:
If you have a child or know of any child wishing to attend St Joseph's in 2022, including at the Year 7 & 8 level, please ensure an application for enrolment has been completed and returned to us. If your child is not returning to St Joseph's in 2022 could you please let the school office asap. We need to know numbers this year for staffing our school in 2022 so if you have a child turning 4 this year, come in and see us. Enrolment applications are available on our website or from the school office.
2021 Leavers: If your child is not in Year 8 and is leaving St Joseph's at the end of the school year please let the office know asap, as we are in the process of working on staffing for next year. Thanks.
Summer Uniform: A reminder that next term we are moving into our summer uniform. For Girls this is our green tunic with Black or brown leather sandals. The sandal must have a heel/ankle strap, and no colour variations are allowed. Roman sandals are an acceptable option.For Boys this is grey shorts (light weight), short sleeved polo shirt (logo on front) with Black or brown leather sandals. The sandal must have a heel/ankle strap, and no colour variations are allowed. Roman sandals are an acceptable option.
During Covid Levels 3 & 2, no visitors should be coming into school so if you would like any used summer uniform items, please email stjoesoffice@stjosephs.co.nz with requests (uniform item, size, your child's name and contact phone number) before 9am Wednesday 13 October. We will see if we have the uniform items you require and put them together for you to collect that afternoon between 1:00 – 2:30 pm. Someone will contact you regarding collection. This will be the only time the school uniform shop will be available during this term break. There will be no one in the school office on other days.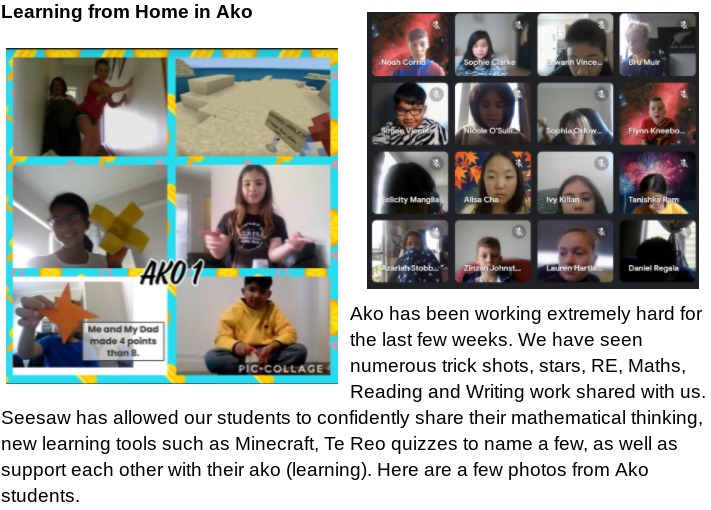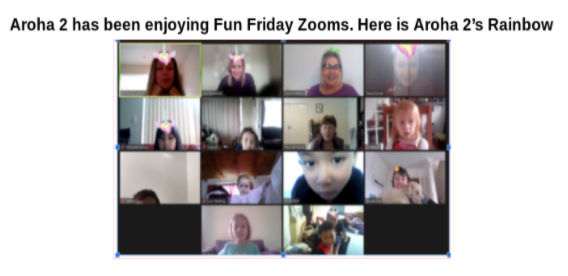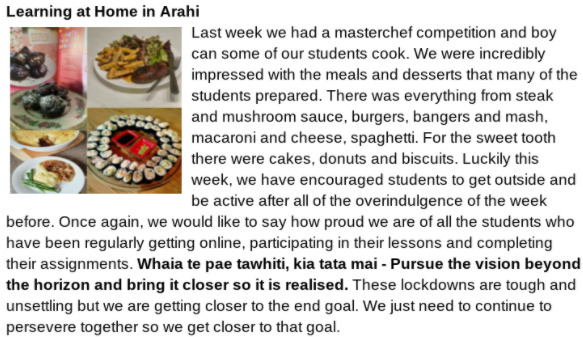 Due to Covid Level 3 the following events have been postponed of cancelled:
Basketball Girls Year 7 & 8 has been cancelled

St Annes Shield cancelled

School photos have been postponed until Term 4 – date to be confirmed
We will continue to keep you posted on upcoming events as we are updated throughout the Covid alert levels.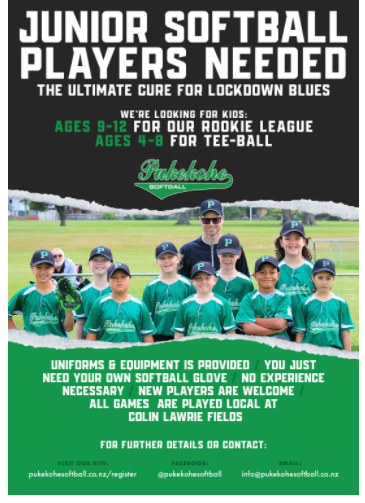 Our Club is looking to expand our successful Rookie League programme this season.
Softball is a great option for kids in the summer as it gets them away from devices and out into the park. Kids that play softball improve their hand-eye coordination and general cardiovascular health. Other benefits include learning to cooperate, compromise, and be part of a team.
We also have a long-established Tee-Ball programme for younger kids, aged 4-8, that teaches the fundamentals of softball in a format that is a lot of fun. We've been running this for 6+ years and many of our U15s started out in our first Tee-Ball teams.
We fully understand that these are difficult times for our local community and that families and Whanau are doing it tough. That's why we're happy for kids to register now and pay their subs later. Our Rookie league costs $80 for player registration and this includes all of the equipment, uniform and cap. The only gear players need to supply is a softball glove. Players can register using the link below:
http://www.pukekohesoftball.co.nz/register
So if you're looking for a summer pursuit that gets the kids out in the fresh air, exercising and making new friends then talk to them about softball.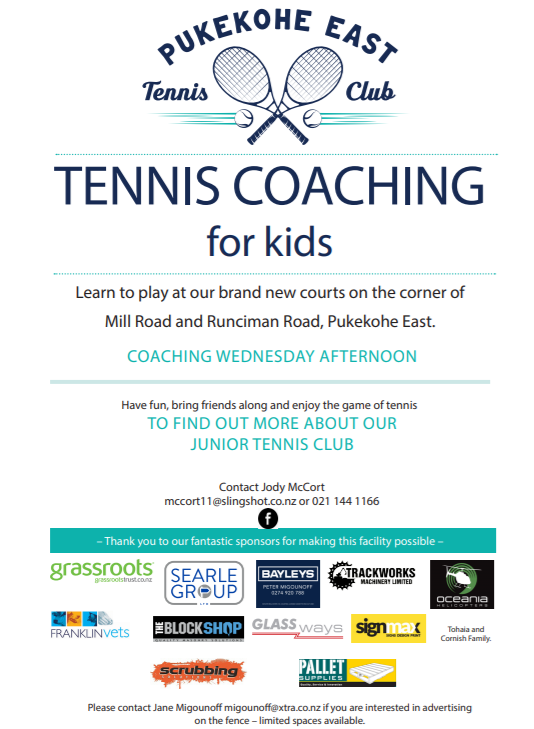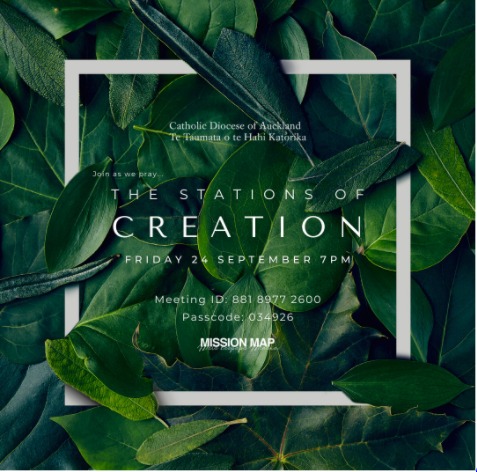 The Season of Creation is celebrated annually in September. It is a particular time
of faith set aside for us to think about, respond to and pray for the needs of the earth and the needs of future generations who will be dependent on a healthy planet. Come join us in prayer.
Zoom: https://us06web.zoom.us/j/88189772600 (Passcode: 034926)
YouTube: https://www.youtube.com/c/AucklandCatholic

Please support our newsletter sponsors below
Copyright © St Joseph's Catholic School 2021
Click
here
to unsubscribe.